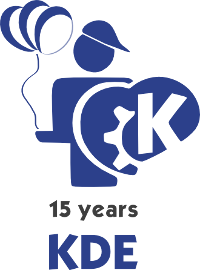 Our beloved "desktop environment" is in its "teenage" years and have undergone a great number changes ever since its conception as a GUI for Unix/Linux 15 years ago to an international community, a strong development platform, beautiful workspaces, and feature-rich applications.. I'm sure it has touched and changed the lives of many people all over the world, some in small ways, others in dramatic ways. But KDE isn't just a name, or a "thing" that we anthromorphized to greet today. It's a living and thriving community of people who worked together to make things happen. And so:
To the developers who put in their hard work and time on making the software rock our world …
To the artists and designers who shared their vision and talent into creating a stunningly beautiful and usable masterpiece …
To the translators and documentation writers who labored to deliver a humane product …
To the bug hunters, triagers, and fixers who painstakingly ensured the quality of what we distribute …
And to the global community of users, our beta testers, stress testers, our supporters and fans, who used, loved, and gave feedback on the software …
a huge
THANK
YOU
for making KDE reach 15! It wouldn't have been possible without you.
(And if you, dear reader, feel that you are not yet in the list above, it isn't too late to be a part of the next 15! Just head on over to to our Community Wiki and choose your own adventure.)
Source: http://jucato.logbert.org/journal/happy-birthday-kde-thank-you-everyone